Seager Welding Ltd - Sample Work
1. Long Reach Excavator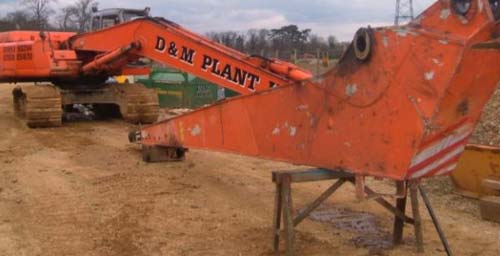 PROBLEM:
This long reach excavator suffered a major failure whilst digging gravel. The dipper literally snapped in half. After being told this couldn't be repaired (especially on-site) and that the customer would need to replace the whole dipper we took the job on.
The machine is still in operation and has had no further problems with the dipper.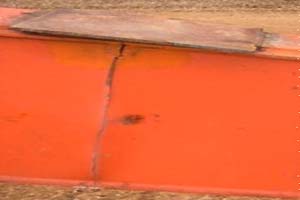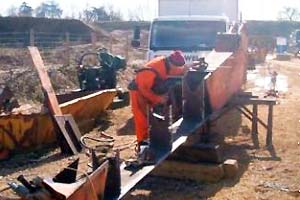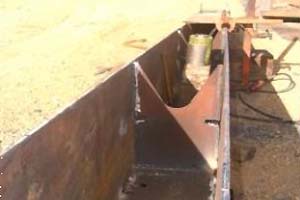 The crack can clearly be seen in the photo above left. The first stage was to cut away and discard the damaged sides and bottom of the dipper. Then to profile new dipper sides from 10mm thick Weldox plate.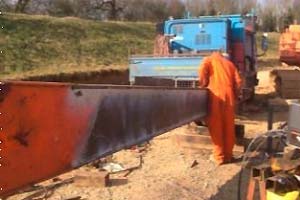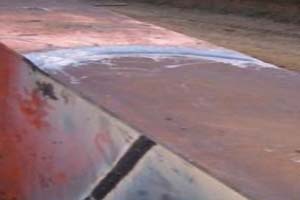 2. Machine: CAT 836G
The welding equipment we have mounted on our vehicles means we are perfectly suited to carry out operations such as changing of compactor wheel tips.
Because we have the correct equipment this sort of project becomes far easier than it would be for most companies
Using Arc-Air gouging we removed the worn tips quickly and cleanly. The area is then cleaned and the new tips tacked on, pre-heated and welded using a flux cored wire. For this particular job, we changed the tips on all 4 wheels. This was accomplished in two days by two men.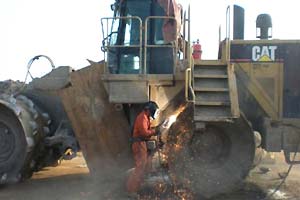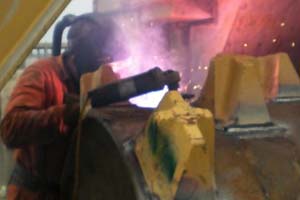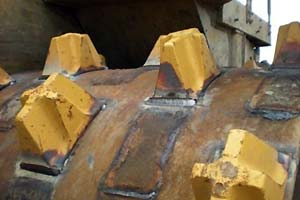 3. Large Automated Entrance Gate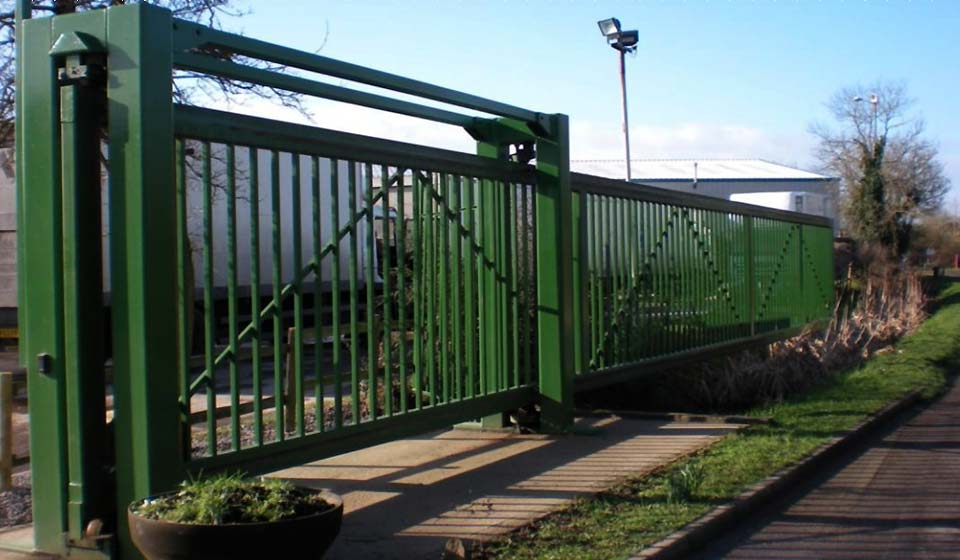 This customer came to us with a challenging project. To design, fabricate and install a new entrance gate to their haulage yard. The entrance was 16metres wide and because the ground was uneven, it wasn't practical for the gate to have a support wheel on the end. To solve this, we designed a cantilevered gate that had an overall length of 22metres and weighed in at 2.5tonnes. We believe this is one of the longest gates of its type that you will see. Several gate manufacturers that we spoke to said that it wouldn't be possible to manufacture a gate to these specifications but again this proves our ability to adapt and come up with workable solutions to big challenges.
Since this was installed, we have installed another of these gates on the same industrial estate although the 2nd was a baby in comparison at just 12metres long.

4. Hitachi EX650 Mainframe Rebuild
Primary Fault - Major failure of main boom pivots on machine mainframe

Secondary Faults - Cracked areas on lower boom ram mountings, worn boom ram mounting bores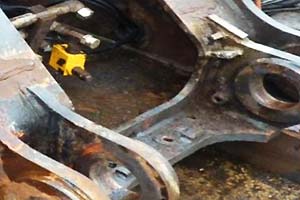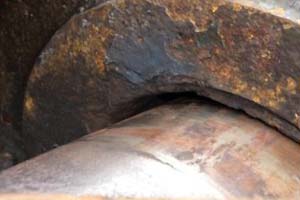 This was a major repair brought to us in February 2012. This 65 ton machine had been poorly maintained and had been previously repaired to a bad standard. The machine was brought to our premises to be properly repaired and also to be strengthened as we believe the machine was being overloaded.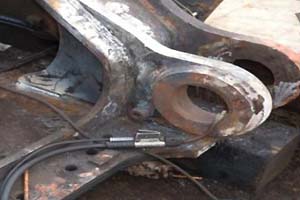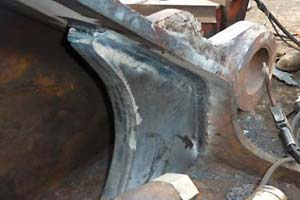 1. Gouge out cracks/previous repair plates around lower boom ram mountings. Realign one bent lug. Reweld cracks in central brace plate. Cut out sections of lower boom ram mountings which were cracked beyond repair.
2. Profile new sections, cut weld preps, fit, tack, pre-heat and weld in place.
3. Supply 40mm plate, profile strengthening plates. Fit in place behind lower boom ram mountings. Pre-heat and fully weld in place.
4. Gouging and cutting off damaged main boom pivot mountings and side strengthening plates from main frame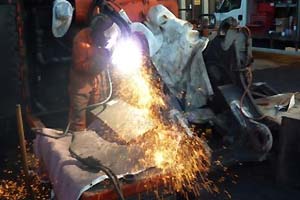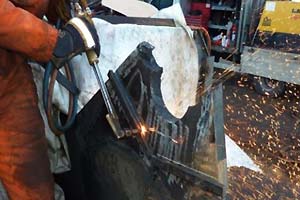 5. Supply steel sections, pre-heat and profile new sections.
6. Cut weld preps onto new sections and cut sections of main frame.
7. Align new sections with manufactured alignment sleeves and tack in position.
8. Brace new sections, pre-heat to correct welding temperature and fully weld new sections.
9. Pre-heat and profile new strengthening plates.
10. Fit to both sides of new boom mounts, tack, pre-heat and fully weld.
11. Prep central plate, refit and fully weld back in place.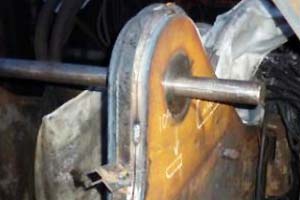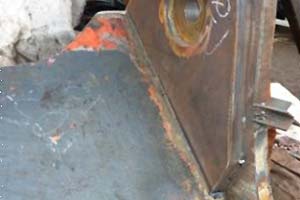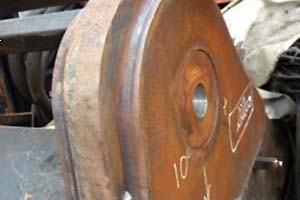 12. Line bore new boom mountings to suit new bushes.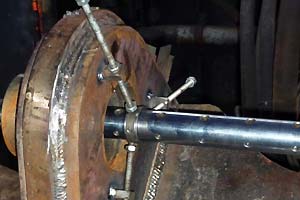 13 .Supply Liquid Nitrogen, freeze bushes, heat boom mountings and fit bushes
14. Weld on main boom pin retaining plate. Profile and drill new cover plate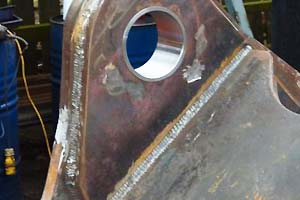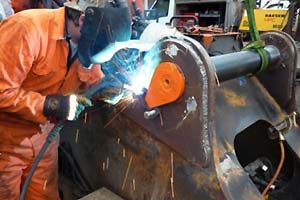 15. Manufacture and weld on 2 new boom ram retaining bosses.
16. Clean up and paint repaired areas